Microblading Course Outline
We offer small group classes (4 people maximum) and individual classes.

Course length: 20 hours (4 days/ 5 hours per day) in person.
Training Kit and Starter Kit is included.
Theory and 3 day hands on training with live model.
Blood Borne Pathogens and Tattoo License is required, which our staff will be able to guide you through the process before attending class.

Lecture Content: (Day 1)

Skin Structure
Skin Condition and Diseases
General Skincare Treatments and Products Knowledge
Bloodborne Pathogens and Sanitation
The Work Environment
Face Shapes and Structures
Hair Structure
Eyebrow Mapping
Eyebrows Designs and Shapes
Eyebrows Drawing and Tweezing
Hands-on Training
Eyebrows Demo with a live Model

Lecture Content: (Day 2)

Quick Refresh of Previews Content
Eyebrows Practicing with a live model (each student will have their own model under
the 1 on 1 supervision of our trainer)
The Color Theory and The Color Wheel
The Pigments Study (Organic x Inorganic)
The Microblading Techniques
The Microblading Blades and Tools
How to Create a Natural Hair Stroke
How to Create Your Own Microblading Style/ Technique
Consent Forms and Social Media Consent
Pre and Post Procedure Care
Hand-s on Training (on practice skin)
Day 3 and Day 4 Exclusive for practicing
The students will have their own live model and they will do their first Microblading practicle.
under the 1 on 1 supervision of our trainer. Each student will have 2 and ½ hours to
practice their Microblading. The other students will be watching, while the procedure is
done. This module will give them the opportunity to face different eyebrows and skin
texture, so they will feel more confident to start their career.
What It's included to the Kit:
1 Stainless Still Caliper
1 Stainless Still Eyebrow Scissors
1 Dual Stainless Still Tebori (Microblading Handle)
5 Different Tweezers
5 Microblading Pigments (Most Popular Shades)
1 Practice Ink
1 Numbing Cream
2 Practice Skin
1 Color Wheel
1 Eyebrow Pencil
1 Eyebrow Mapping String
1 Small Tattoo Wrap Film Roll
1 Pigment Mixer Machine
100 Mixing Sticks
100 Pigment Caps
12 Eyebrow Shaper
25 U-Shape 0.16mm Needles
25 U-Shape 0.18mm Needles
25 Shading Needles Bevel 19Round
25 Flax Shape 0.18mm Needles
25 Pigment Applicators
25 Eyebrows Disposable Brushes
25 Pigment Ring
25 First Aid Cream (small bags)
Microblading Instructor
Presented by Miami Eyebrows with Flavia Martins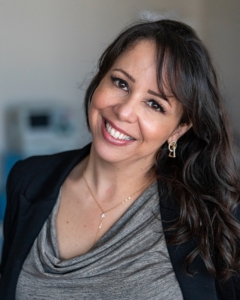 Flávia Martins is a native of Rio de Janeiro, Brazil. She is an Esthetician with 16+ years of experience and
has practiced in the medical field since 2009. In the same year she also worked at Camerino Professional
Makeup where she optimized her skills in eyebrow designs and professional makeup. That's where she
got her start in Microblading. However, Flavia decided not to offer the service because she wasn't
satisfied with the pigment's quality at the time, so she dedicated more of her time to the medical field. In
2012, Flavia completed the Health Coach course curriculum at The American Academy of Anti-Aging
Medicine (A4M), allowing her to have a better understanding of skin problems and their relation to the
health condition of the patient. Then, in 2015, Flávia started working with Dr. Adam J. Rubinstein, where
she is the lead Esthetician offering patients skin care treatments such as the Dermasweep Facial,
Chemical Peels, Microneedling, Pixel 8, SofWave and Thermismooth. She also performs non-invasive
body procedures – Thermi250, Thermiva, Coolsculpting, Emsculpt and Vanquish. In 2018, Flavia
completed the Medical Assistant Program at Florida Technical College and became a National Certified
Medical Assistant and National Certified Phlebotomist/ECG Technician. Flavia also completed the
cognitive and skills evaluation in accordance with the curriculum of the American Heart Association Basic
Life Support (CPR and AED) Program.
Throughout these years, Flavia never stopped searching for better Microblading pigment quality, and
because of the demand in the market, she was finally able to find a few brands she trusts, and she started
offering the service again in 2020.
The idea of teaching Microblading started when Flavia realized the minimal training and knowledge most
courses offer. Especially when it comes to the skin's health condition, eyebrow shape, and
colorimetry, which are crucial to achieving beautiful and natural results. Her goal isn't only to share her
knowledge and expertise, but also to contribute to the success of her students.